Cogir of Folsom is a one-of-a-kind assisted living community , and our inspiring selection of amenities is a testament to that. From the lush courtyard and a serene garden to plenty of indoor areas dedicated to engaging activities, residents have everything they need to live a fulfilling and meaningful life. Additionally, our highly trained and compassionate team is working around the clock to ensure your loved ones feel safe and cared for. Our coveted address near medical institutions as well as ample shopping and recreational areas are a few of many reasons why we have become the leading memory care community in Folsom, CA.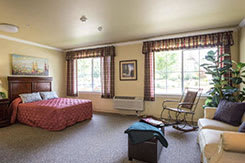 Accommodations and Services
Our assisted living in Folsom is perfect for residents who seek privacy while having premiere amenities and comforting companionship . These 450-square-foot studios feature patios and kitchenettes, with easy-access showers available in some of them. Other amenity highlights include cable, utilities, as well as daily assistance with housekeeping and laundry.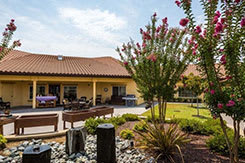 Layout and Amenities
Taking walks in the beautiful courtyard paths or enjoying a book from the library are the perfect activities for when residents are seeking a moment of peace and quiet. There's also a beauty salon so seniors can always look their best, along with a wellness center for physical activity. For all the social butterflies, the fireside lounge is the perfect place to mingle and catch up with friends. Additionally, we offer complete Wi-Fi coverage, front desk assistance, and plenty of parking spots.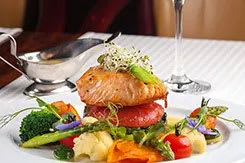 Food Services
Residents can enjoy a wide variety of chef prepared meals which utilize farm fresh and locally sourced ingredients that are nutritionist approved. Residents can also enjoy daily restaurant-style dining. For those needing a quieter atmosphere, we also offer a private dining room.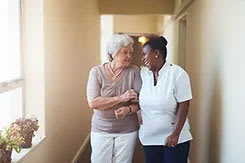 Care and Assistance
Our care services are tailored to our residents' changing needs and include private transportation to medical appointments as well as assistance with dining, mobility, hygiene, and dressing. Medication and incontinence management are provided in a gracious and respectful manner as well.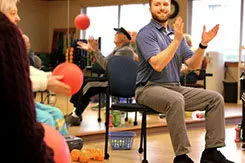 Activities and Leisure
A variety of on-site activities help improve your loved one's quality of life. From exercise classes and art activities, to live music and gardening, we thought of everything. We also offer scheduled transportation to special community and Northern California events.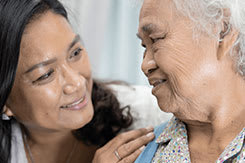 Safe Environment
Resident safety and well-being is our top priority which is why there is a licensed nurse on-site that is ready to assist whenever needed. Emergency pendants are also available for added security. Plus, we are known for exceeding all state sanitation guidelines.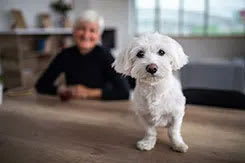 Pet Friendly
A pet's unconditional love brings joy and companionship to the lives of many seniors. Our welcoming pet policy supports and celebrates the strong bond between furry companions and their owners.
Folsom Dementia Care
With plenty of wellness-focused features and activities, residents will find an oasis of recreation and inspiration. Cogir of Folsom Memory Care is the place where you can walk daily in a flower-filled setting, enrich your cognitive talents with memory-engaging activities, or find pleasure in social outings and physical fitness classes. With the option of residing in a studio or companion suites, one can welcome independence combined with a carefree lifestyle, entertaining events, and an ideal address.
Our senior living community in Folsom is just a 20-minute drive away from Downtown Sacramento and extremely close to Empire Ranch Golf Club, and The Pallado, home to some of the best shopping and dining in town. Contact our team today!